As it nears to the end of the traditional wedding season Orchid Blush artists have covered countless weddings. The question we are asked again and again by brides is how to achieve flawless skin. We believe skin should look beautiful but make up should never appear cakey. For this reason,we have compiled a list of foundations that we think consistently perform well. It is opinion based and not every foundation will work for everyone but this list contains some skin perfecting powerhouses. 1. Chanel Matt Lumiere 30ml £29
The Chanel lumiere range are by far our favourite foundation for personal use. It goes on evenly and gives a radiant slightly powdered effect. It doesn't have a chalky finish and gives great oil control without the need for powder. The vita lumiere is also popular although this is a lighter cover it gives a dewy finish and is great for those who have clear skin. The pro lumiere not so much is goes on evenly but if you even have a hint of oil in the skin it tends to slide of and evenly look greasy even with powder.
Cons
Price
It does not cater for darker skin tones and does not have a wide range of colours.
2. Diorskin Nude Foundation SPF 10 £29 1oz
This is a 40% water based foundation which is pigmented with 100% naturally minerals. It goes on evenly and is light to medium coverage. It feels lightweight and we found it to last with minimal touch ups.
Cons
Price
Not a full coverage so if you are somebody that likes a thick foundation this will not be suitable for you.
3. Make Up Forever HD Foundation
Make Up Forever HD foundation is a step up in foundations. It perfects skin but looks so natural it is almost invisible. It has a satin matte and goes on evenly and lasts!!!!!!. The only reason this foundation is not top of the list is because it is harder to get hold of and colour match outside of London. However if you get the opportunity to purchase this foundation you will not be disappointed.
Cons
Shades can be confusing numbers do not run in order
Not available in high street. (can order in UK from Guru Make Up Emporium or Make Up Artist Provisions)
4. Estee Lauder Double Wear SPF10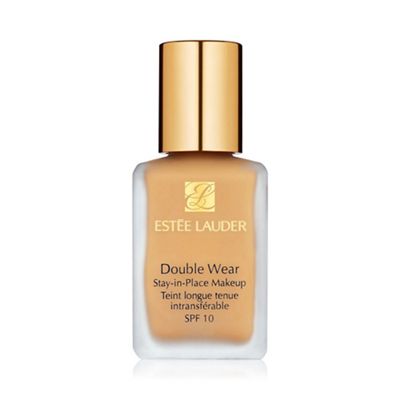 If you like a full coverage then this IS the foundation for you. If you have marks blemishes, uneven skin tone then this will cover it. You may need to use it in conjuction with a concealor or camouflage cream for severe scars but if you want a good blank canvas then doublewear is a great start. It stays in place and has reasonable oil control being oil free. Its reasonably priced and available at any estee lauder counter.
Cons
Can look heavy and in our experience is not suitable for very young skin
5. Giorgio Armani Beauty Luminous Silk Foundation 30ml £32
This foundation was created whilst legendery make up artist Pat McGrath was creative director and it show. This foundation ticks all of the boxes. If skin could choose a foundation it would be this one. It applies evenly and the skin seems to absorb it rather than it sitting on the top. It as great staying power and needs minimal powder. I great overall performer.
Cons
Price
Some other foundations that have found the way into our kits and deserves a honorable mention are:
Revlon Colourstay 30ml SPF 12-15 £11.99 Boots
Great staying power
Reasonable Price
MAC Face and Body 120 ml £23
Lightweght
Water resistant